The Perfect Gift
for guitar players everywhere
All guitar players know the feeling of being "pick-less" in a time of need. Whether you are about to perform the gig of your life or simply strumming the guitar for fun; a pick makes all the difference. Our revolutionary system allows you to create guitar and bass picks out of virtually any piece of plastic. Its simple, easy to use and small enough to fit into any gig bag. 
Casual players and serious musicians alike love the Pick-a-Palooza. You can also use the Pick-a-Palooza with a little imagination to create unique gifts such as earrings, bracelets, necklaces, and keepsakes of all kinds. So "pick" one up and start making your own picks today!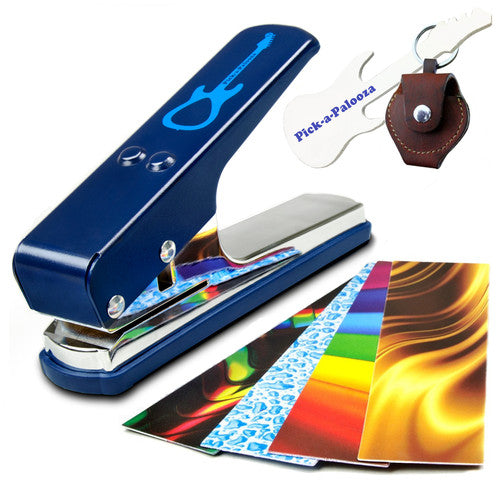 Features
• Sturdy Construction
• Simple to Use
• Lots of Fun
• Great for Musicians on the Go
Simple and Easy To Use
1. Just place any plastic material in the Pick-a-Palooza 
2. Press down and out pops a newly created guitar pick! 

User reviews
Happy customer
My Husband loved it!
I bought the Pick-a-Palooza for my husband. He has been playing guitar for over 40 years. He had never seen anything like it and is thrilled with it! He took it to his Sunday night gig last week and the other guitar player is completely entranced with it as well.
Great Gift Idea
Purchased for a gift. Item is heavy duty, and the recipient was thrilled to receive this on Christmas Day, punching pick after pick after pick. Did not realize that guitarists would find such a thrill with this item, but it won out over the most sought after gift of the day, an ultra-original idea in decades.
Really cool designs
Let me start by saying I LOVE THIS THING. I can't tell you how many times I have ordered picks and before ya know it i can't find a single one. With this thing, if I can't find one I can just make one! It comes in a nice box with the punch, pick material, pick sander for the edges ( if needed) and a key chain for holding picks. The punch is built like a tank and feels like a quality made tool.
If you need picks...buy this punch!
I absolutely love my pick-a-palooza!! I got it yesterday and have been playing with it ever since. I'm finding the quality to be perfect and all the picks have been beautiful with no flaws. I'm 110% satisfied with the purchase!!
Neat little tool
This is an extremely well made useful little tool. I shared it with my guitar class and everyone just loved it. What I especially like is how you can use old credit cards for picks...the raised lettering from the card helps prevent slipping by giving some extra traction. You can use old credit cards, expired gift cards, etc...highly recommend!
Fantastic gift for the guitar player in your life!!!
My husband is a Firefighter and the guys like to sit around between calls and play guitar. We always like to get everyone something unique and this hit the mark!!! Loved the product!!! It makes amazing picks!! We also just purchased one for his dad and one for us too!! Highly recommend!!
My husband's favorite gift this year
My Husband's favorite gift this year. He was intrigued by how it worked and the shear fact that as a guitar player he had never thought to invent something like this. He told all his friends and fellow guitar players about it.
Easily her favorite gift of all
I bought this as a small side gift for my daughter for her 12th birthday. I have to say she loves this thing. Easily her favorite gift of all. She's been plugging out pick after pick and is off to the mall with mom to get as many gift cards as she can to cut up. I cut a few from some old Starbucks cards we had laying around and I have say it's pretty cool. I'm looking forward to all my picks not disappearing anymore :-)
I liked it so much, I kept it!
I bought the Pick-a-Palooza for my nephew for his birthday. When I received it, I thought I might try it out because some people had said it was hard to use. Not so! In fact, I liked it so much… I kept it. Yeah, I'm a horrible aunt. Haha. Then I got back on line and ordered him another one, and sent it directly to him. I hope he likes it as much as I do!
Follow Us
Facebook & Twitter